Advertising Positioning, Dimensions, and Creative Needed
Featured Content
Integrated content is one of the most powerful trafficing driving tools. The content feels less like an ad and more like a recommendation.
Banners
Drive your marketing message with impressions and clicks. Banner advertising is a low cost way to build your brand and create awareness.
Bookmark
GolfVermont.com Email Marketing
Reach 55,000 golfers and golf trip leaders with our email marketing database. Your message can be included in our monthly newsletter or via a dedicated email.
Bookmark
Dedicated Email
Location:
Reach the inboxes of 55,000+ golfers and traveling golfers. A stand alone email can be scheduled for the date and time of day you desire. Our email lists are homegrown from the traffic from our sites and is made up of local and traveling golfers. Because our list is targeted advertisers see an higher than average open rate. Typical open rates range from 17%-25% with click though rates as high as 10%-20%.
Creative Needed:
* A subject line for the email.
* and either (1) an html file (2) or an image (3) or the components to build the email (images, text, url).
(Width of the html or image should be either 600 or 800 pixels wide for best email viewing.)
HTML Examples: (view page and File>>Save As to save and use as a template)
HTML - Boyne
HTML - Treetops
HTML - Destination Kohler
HTML - Streamsong
HTML - Outback Bowl

If you have an exisiting html file, please email it to us. If you have an exisiting email in your email list provider (like mailchimp), you can export the html file.
How To Export From MailChimp to Get HTML:


1. In MailChimp, ensure the email you want to export is saved as a template.
2. Select Edit - Export as HTML.

When exporting a HTML template, the styles do not get inlined automatically which means your email will not render properly in email clients like gmail. You can fix this by using MailChimp's tool to inline the CSS.
3. Copy your code from the HTML download into MailChimp's Inline Tool.
4. Click convert and download the code.
Full Image Examples: (Full Image 600 or 800px wide)
Image - Tubac Resort
Image - Omni
Image - Alabama
MailChimp Template: (We will build email using these our email list providers templates. Provide photos, text and call to action.)

Template Example: Oakcreek CC
Template Example: My Golf Vacation

Bookmark:
https://www.golfvermont.com/mediakit/ads/#dedicatedemail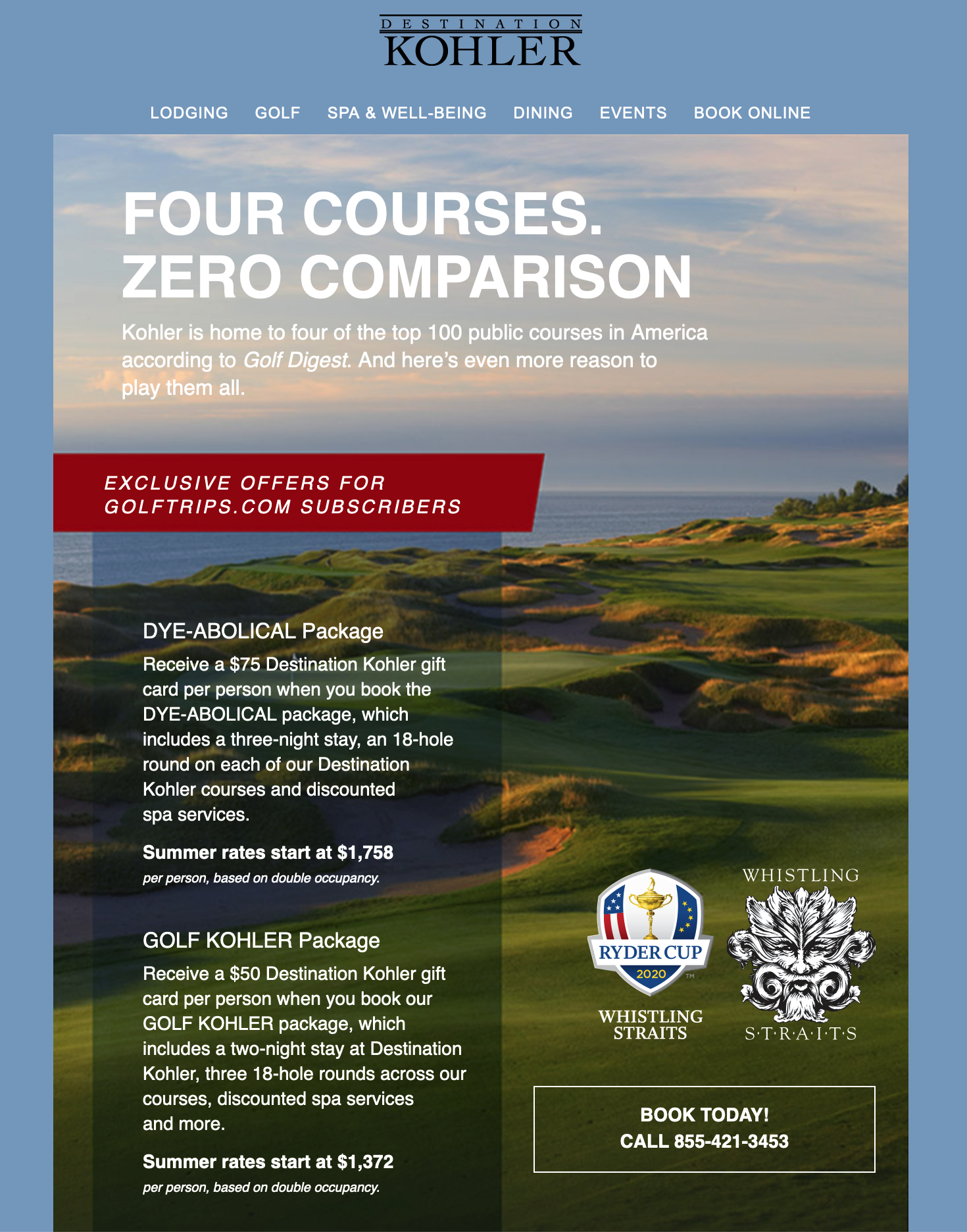 Dedicated Email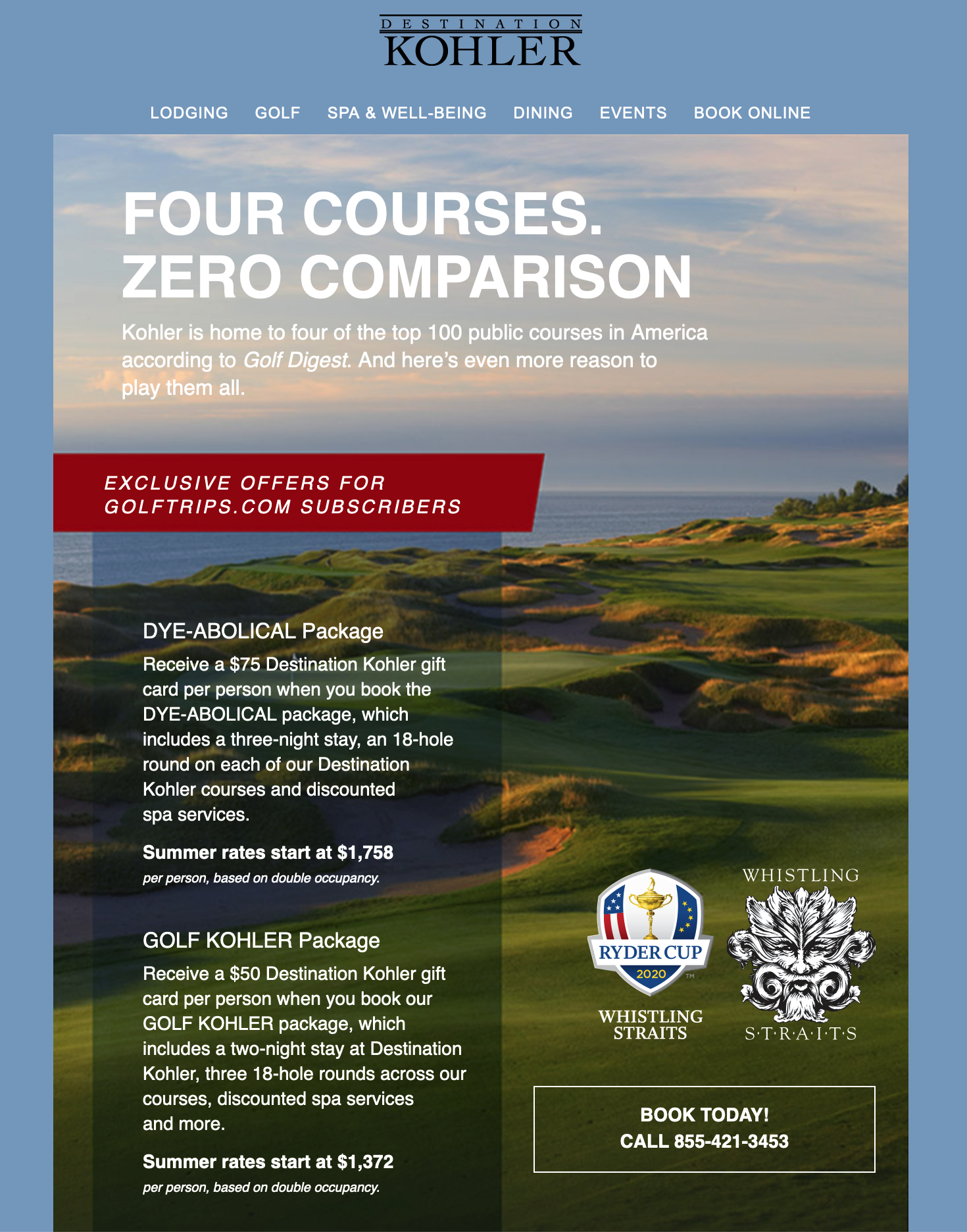 (Click image to expand)
Monthly Newsletter
Location:
Reach the inboxes of 55,000+ golfers and traveling golfers. Our monthly newsletter typical sends the first week of the month. The newsletter is packed with up to 8 articles, golf travel offers, and news curated for the bucket list golfer.
Creative Needed:
* Large photo (1500x750)
* Story, press release, or marketing message up to 4 paragraphs of text
* click-through URL
Archive:
Past Newsletters
Bookmark:
https://www.golfvermont.com/mediakit/ads/#monthlynewsletter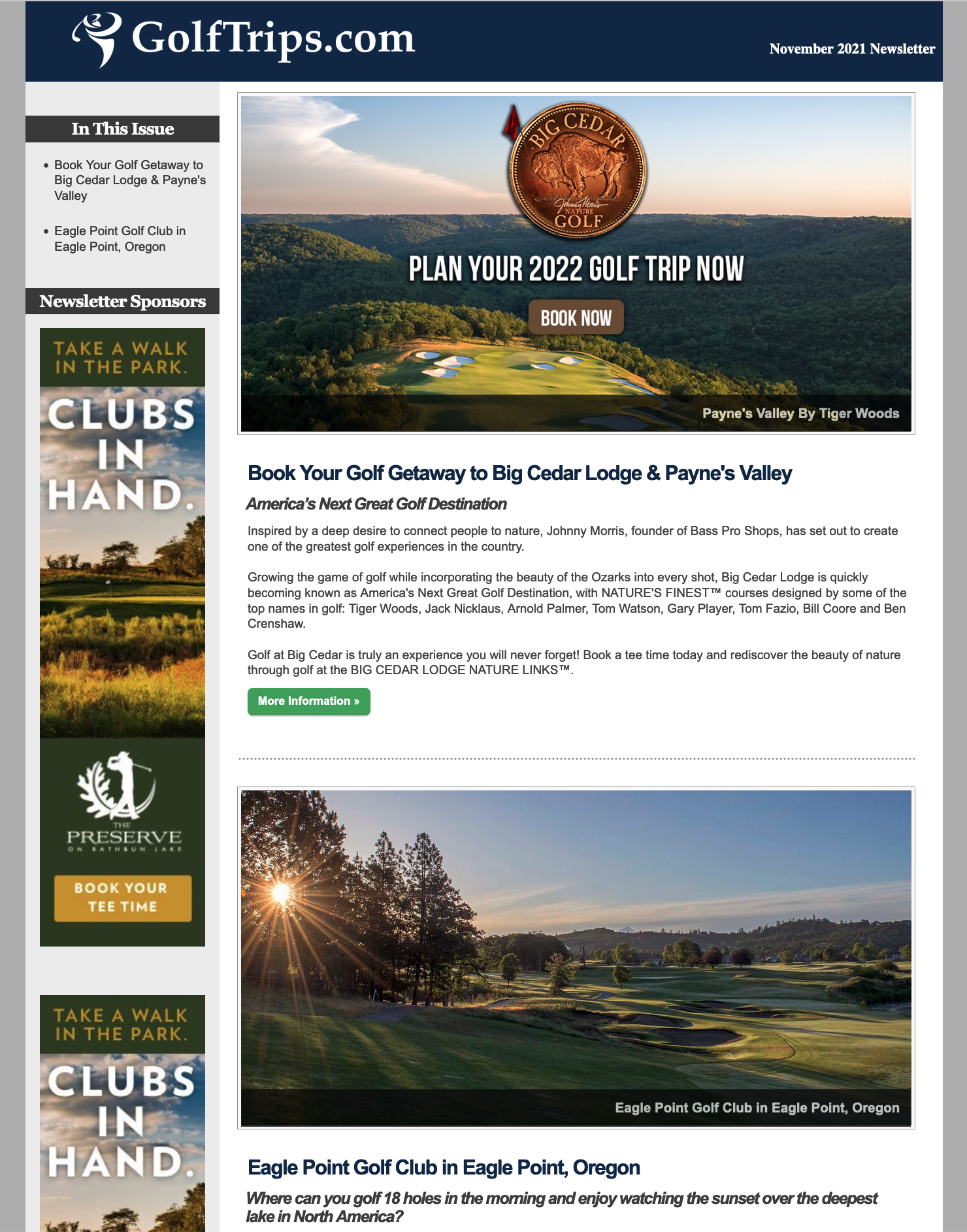 Monthly Newsletter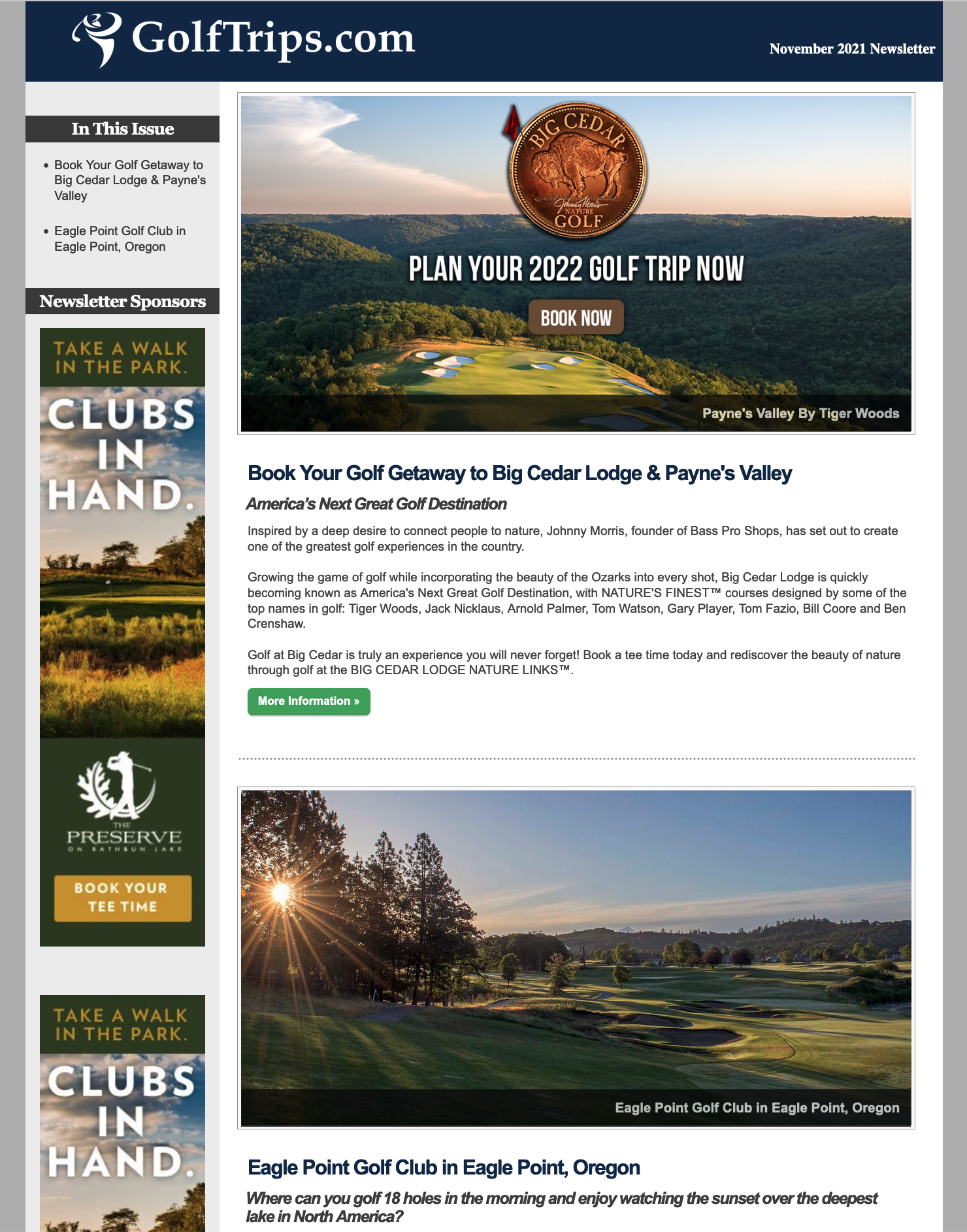 (Click image to expand)